Just as I expected, I finished The Sanatorium inside of the weekend, and it proved to be the perfect read for a lazy Sunday afternoon. The still-frigid early March temps we have here in New York (snow still on the ground and all) lent the perfect backdrop to my marathon reading sesh of this Gothic Thriller set in the Swiss Alps. Between sips of hot chocolate and breaks to eat, Sarah Pearse's narrative sunk its claws into me and did not want to let go.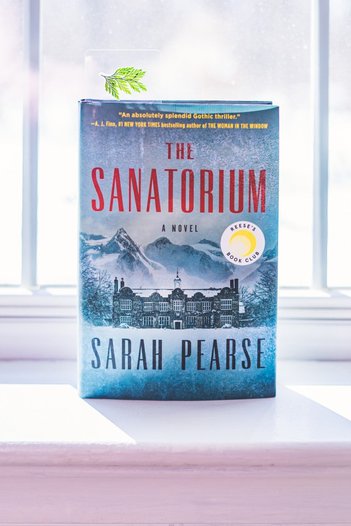 Intense and atmospheric, The Sanatorium featured breathtaking imagery and twists startling you out of your seat at just the right moments. I found myself immersed in protagonist Elin's mind throughout the book.
Pearse builds out this character beautifully— strengths, motives, neuroses, and all. I enjoyed watching as the plot progressed and Elin's characterization further unfurled, peeling away like the layers of an onion. I read in rapt attention as she battled inner demons while navigating an increasingly dire situation. I felt her pain and anxiety as she struggled to make sense of her relationships and reconcile her past. Elin as the relatably imperfect thriller heroine you love to love? Top-notch.
The thing that keeps me from giving The Sanatorium a 5-star rating is that the climax kind of crashed too quickly. Taken at face value, the villain reveal gave me actual Scooby-Doo, "and we would've gotten away with it too!" vibes. Given how sophisticated and intricate the plot felt, this made the ending feel less gratifying than what I was expecting. But then again, developments at the very end make this approach kind of make sense. Maybe.
TL;DR— After we find out whodunnit, the reader is abruptly made aware that Elin missed something. (Just like she did with her family relationships and the ghosts of her past.) It's a bit on the nose, but the reader is shown in no uncertain terms that Elin's mistakes at Le Sommet are going to catch up with her.
It begs the question: What else did Elin miss? Was she ultimately an even less reliable narrator than revealed, or is there something else going on? Did Pearse leave any hidden breadcrumbs about this development? We'll have to wait for a sequel, an official author's comment, or leave it to our imaginations.
Content Warning: violence, murder
---
Where to Buy The Sanatorium