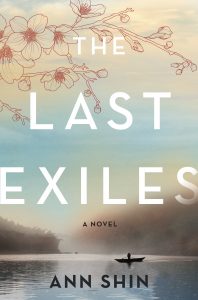 The Last Exiles tells of Jin and Suja, two college students who risk everything to escape North Korea. The story begins with a look at their burgeoning relationship as well as a peek at each of their backgrounds. Suja is the only daughter of a privileged Pyongyang family, while Jin is a poor scholarship student well acquainted with the pain of famine. And though Jin's scholarship affords him a respite from daily and debilitating hunger, this isn't the case for his parents and younger sister, a truth that nags at him continuously.
Despite this deep chasm in their socioeconomic statuses, the persistent commonality they soon realize is that no matter how wealthy or connected you are, a mere whisper of disagreement with the party line can get you disappeared.
When authorities arrest Jin for a negligible offense done out of sheer desperation, the young couple is separated. Though apart, they fight against all odds to survive and (hopefully) reunite. The novel progresses quickly, and we see how Suja and Jin come to painful terms with how fragile their world has been all along, held together ever-so-tenuously by propaganda and a soul-crushing fear of being disappeared. Our lead characters are clever and idealistic at heart, and as you'll see in the novel, even their soul-crushing firsthand experience of the government's duplicity doesn't break them.
Their respective journeys out of North Korea are heartbreaking and harrowing, with so many unknowns, twists, and horrific hurdles to overcome. The Last Exiles poignantly recounts the further atrocities Jin and Suja each face— out of one frying pan only to land into another. Ultimately, both of these characters undergo a transformation precipitated by the human rights violations described in the novel. By the end of the story, they are no longer the wide-eyed, unquestioning youths they were when they first met.
In The Last Exiles, author Ann Shin weaves an authentically grim and palpable backdrop to the suffering endured by Jin, Suja, and the other defectors they encounter. Through the novel, I could not help but deeply empathize with these two as they bet their very lives for just a chance at freedom. This was an absolute page-turner for me— each scene so expertly and vividly portrayed that I had to put the book down at intervals to digest the chapters and process the heavy and, at times, overwhelming feelings the story elicited.
This novel is an incredibly moving chronicle of love, hope, desperation, and perseverance. It begs the questions: What would you be willing to do in order to survive? In the face of uncertainty, what would you be willing to risk for the ones you love?
I highly recommend The Last Exiles to anyone interested in Literary Fiction, Asian History, and Contemporary Asian Literature. You may particularly enjoy this book if you often seek out themes of survival and perseverance against formidable odds.
If you're interested in the topic of North Korean defection, definitely take a look at this documentary by The Last Exiles author, Ann Shin— The Defector: Escape from North Korea. Ann went undercover to capture this award-winning film, which follows two North Korean escapees and the smuggler who aided in their pursuit of freedom.
Content warning: scenes of torture, domestic violence, forced marriage, sexual assault (rape), human trafficking
---

The Last Exiles is a May 2021 Buddy Read pick for Beyond Bubble Tea Book Club, a Slack-based online book club that explores, appreciates, and celebrates the Asian-American experience through books and the authors who bring these stories to life. Join us!
---
Where to find The Last Exiles
Publication Date: April 6, 2021