Pachinko is the type of sweeping, evocative novel that'll leave you breathless, humbled, and unwilling to part with the characters. This novel is historical fiction at its best, and when you're through, you'll have had an intimate glimpse into the nuanced and fractured history surrounding the Korean diaspora, starting in the early to mid-20th century. Pachinko is expressive, meaningful, and emblematic; literary fiction far beyond simply entertainment.
Chances are, this novel will further pique your curiosity about this chapter of Korean and Japanese history, which continues to effect people to this day.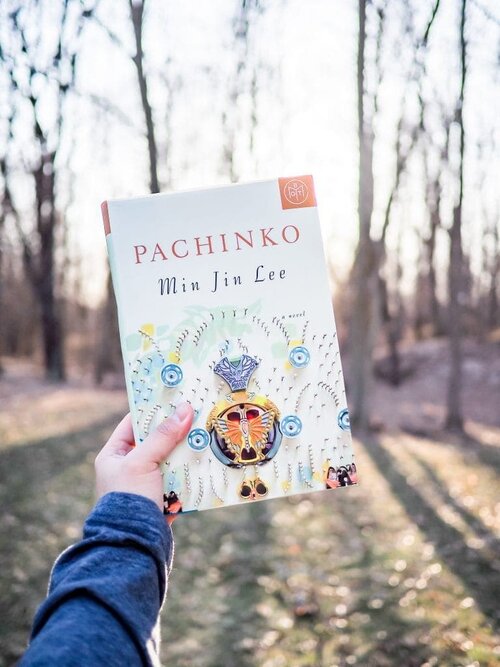 Pachinko was a February 2017 Book of the Month pick, and it's still available as an add-on to your box for just $9.99! Not a member yet? Join with my referral link to get your first month for just $5: https://www.mybotm.com/seuy2m6bpk
Author Min Jin Lee's portrait across four generations paints a poignant and breathtaking view of one family's cross-generational struggle. They are casualties caught in the crossfire between nations at war, effectively ousted of their own country but treated as outsiders in their adopted home.
Spanning nearly a century, Pachinko centers around Sunja, beginning with her humble, serendipitous beginnings on Yeong Island, Busan. She falls in love and is soon pregnant— but she can't marry her lover, and Sunja is left heartbroken, ashamed, and afraid. Whether it's simply serendipitous timing or some divine intervention, a kindhearted and grateful minister (he credits Sunja and her mother for saving his life) offers to marry and wholeheartedly love her and her unborn child.
After they marry, we follow this family saga as it continues in Osaka, Japan. There, Sunja, her husband Isak, and their family face hardship after hardship while navigating their way through the effects of a global war, the insidiousness of colonialism, and ongoing prejudice.
I've had a full night's sleep since I finished this novel, and the story still weighs heavily. I'm utterly humbled— haunted by the strength and perseverance demonstrated by these complex characters. Despite facing crippling poverty, debilitating sickness, discrimination, and tragedy after tragedy, Sunja and her family persist.
Pachinko is a mournful yet celebratory ode to the human spirit's resilience in the face of hardship. Min Jin Lee's lithe and purposeful writing is a soulful reminder that history books too often over-generalize the human experience, and neither a government nor stereotypes define a people— the people's individual stories do.
Content Warning: sex scenes, pregnancy loss, some violence, racism and discrimination
---
Where to find Pachinko