Author Sarah Suk's debut, Made in Korea, is a dual point of view Young Adult coming-of-age novel featuring enterprising high school senior Valerie Kwon. Add in a dose of wholesome teenage drama, a puppy love romance, and lots of Hi-Chew references, and you've got this sweet story. It's a quick read that'll be a worthy addition to your YA lineup.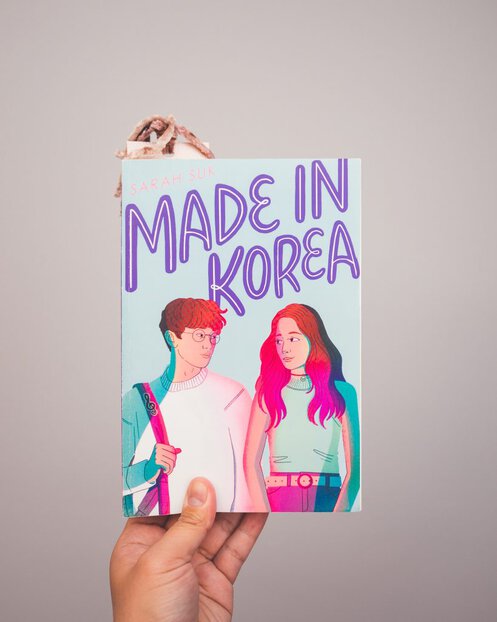 Main character Valerie is one half of V&C Beauty— a weekly pop-up boutique that regularly sells out its stock of Korean beauty products. Even more impressive? She and her cousin Charlie run this consistently profitable venture out of a school locker storefront. Valerie is exceptionally shrewd, and through thoughtful curation and skillful social media marketing, she's built a brand that classmates flock to weekly.
Our story begins when the new kid Wes Jung unwittingly finds himself in Valerie's crosshairs when he accidentally falls into selling K-Pop branded lip balms. Sparks fly between the two, and soon you've got a good ol' fashioned enemies-to-lovers trope underway.
I enjoyed the balance of plot and character development in Made in Korea. The story moves along smoothly, strategically braced with subtle but revealing backstory and relationship-defining dialogue. I think the author's voice was spot on, and the characters well-established within this cozy universe. As a first-generation Asian-American, the family dynamics presented felt very well represented.
Now, while I found both of the main characters quite authentic, I didn't find them particularly likable. Valerie was pretty socially myopic for most of the novel, and Wes was a bit too much of a pushover. That said, I do feel this novel featured relatively believable characters who each harbor age-appropriate amounts of main character syndrome. After all, what is a coming-of-age novel without this type of character development which includes breaking through the shell of adolescence?
If you're looking for an #OwnVoices YA title with a softly whimsical slice of life narrative, pick up Made in Korea— it's a good pick for a light weekend read with a hint of romance.
Thank you to Simon & Schuster for the gifted ARC! I also received access to a digital ARC via NetGalley.
---
Where to buy Made in Korea
Publication Date: May 18, 2021