Love Lettering by Kate Clayborn is the type of novel that lends itself nicely to a rom-com movie adaptation. The heroine, Meg, seems to pretty much always be in her feelings, and her self-deprecating monologuing is both hilarious and poignant. Adding delightful characterization and setting the ambiance are Clayborn's bright and bouncy portrayals of Meg's visual relationship with lettering. I found myself utterly delighted, and low-key hoping for a film adaptation that brings Meg's imaginings to life.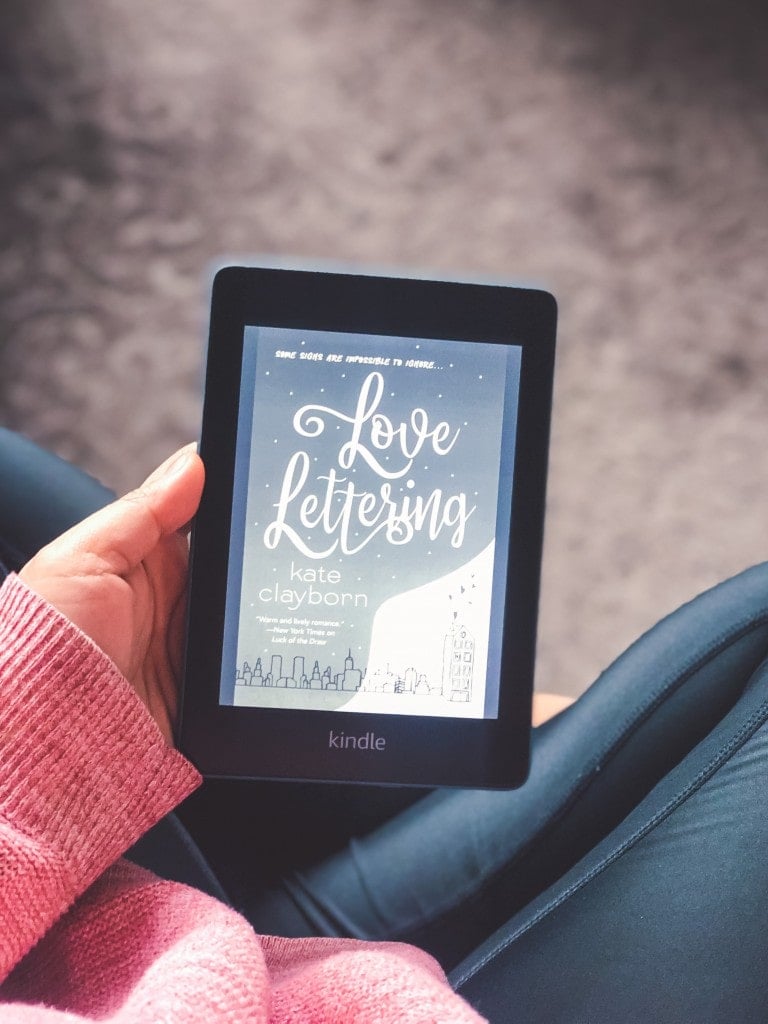 During an early interaction with her love interest, Reid, Meg declares herself not a manic pixie dream girl. But actually, I think that's exactly what she is— just presented from her own first-person POV instead of through some hapless dude's eyes. Also, she's an adult— not a teenage girl.
Meg's social media persona is all flourishes and pastel hues, quaint and quirky, with a dash of some definite Zooey Deschanel vibes. But offline, she's mundanely relatable: human and imperfect, with fears and insecurities, horrible period cramps, and a bit of a tendency to word vomit what she's thinking. Also, she's a little ashamed of how alone she feels.
Like I said— relatable.
Clayborn's sex scenes are romantic and tastefully done— giving you just the right amount of heat to enhance the romance, never overpowering it. The small rituals we see created between Meg and Reid are heartwarming, as are Meg's scenes navigating her other relationships— with old friends, new friends, and peers alike.
The initial pacing is comfortable, lining up well with the budding romance we see unfolding between Meg and Reid. While the reader absolutely expects a defining conflict between them, said conflict appears a bit late in the story and felt just a touch rushed through. That said, this is a light read from a single POV, so the narrowed perspective makes sense.
While tension Clayborn builds fits well with the resolutions that follow, if you're looking for a climax that smacks you out of your seat, you're not going to find it here.
What you read is what you get, so no, you won't be musing on symbolism for days after reading. This isn't one with deep, heavy themes. Alternatively, I could just be utterly oblivious to some complex and intricate hidden code here, an homage to the story's setup and recurring motif.
This book may not leave me lost in my thoughts or haunted in any which way, but it is laced with whimsy and smile-inducing moments that'll make it worthy of a place on your relaxing-weekend-read list.
Also, I may or may not have a crush on Reid now. Sigh.
Love Lettering is a fun and charming slice of chick-lit that'll have you laughing, sighing, and cheering Meg along.
Content Warning: sex scenes
---
Where to find Love Lettering